Thank you for visiting Perfect Laser Website!
Perfect Laser is a world famous manufacturer of industrial laser equipment. Since 1995, Perfect Laser focused on the development and production of various types of laser machinery and CNC equipments.
Product
Our products include: laser engraving machine, laser cutting machine, fiber laser marking machine, fiber laser cutting machine, die board laser cutting machine, 3D laser engraving machine, CNC router, plasma cutter, dot peen marking machine, inkjet printer, CNC channel letter bender, laser welding machine and so on.
More than 20 series, 300 types. Personalized products and services to provide customers with a significant advantage. Due to the high quality of our products and reliable performance, they are widely used in electronics, hardware, model-making, clothing, footwear, advertising, printing and packaging, toy-making, as well as more industries.

Certificate and International Certification
As ISO9001: 2000 certified laser machinery manufacturer, Perfect Laser is committed to providing customers with high-quality, reliable laser machines.
As a result of our quality control measures, our laser cutting machine, laser marking machine, laser engraving machine all have got CE certification. Perfect Laser also has got TUV and FDA certificate. High precision, low energy consumption, automatic processing, little environmental pollution and make our products more and more industries played a important role.
Talented Team
Perfect Laser brings together the world's top professional talent and technology, has a highly qualified international personnel. Set from software development to hardware design, system testing, technical services are completed by professional and technical personnel.
Perfect Laser eatalished 2 R&D center in Jilin and Hubei Province, well-known institutions of higher learning and research institutions at home and abroad, work closely with national 63 patents, a number of the core technological achievements and technical indicators at the international advanced level.

Strict Test For Machine
To ensure the quality and stability of the machine, Perfect Laser using the most advanced production and testing equipment, including Co2 lasers meter, CNC grinding machines, scanning mirror, AC variable voltage power emulator stable, focus system.
And we use the a thermostat measuring room,3D measuring instrument, laser dynamometers, digital bridge, and state-of-the-art equipment to check the quality and performance of our industrial laser equipment in each production step to ensure our machine's quality and stable performance.

Cost control
Perfect Laser provides affordable, high-quality machine. In order to achieve the advantages of Asia, the full benefit in terms of quality and cost, procurement of key components from Germany and the United States, and the production and manufacturing in China. Perfect Laser have the best supply-chain-system for parts and components, and a solid record of quality and innovation, to prove that our 20-years performance of the machine.
R&D Ability
Perfect Laser has got 63 patents in high tech field. We have an energetic R&D term and abundant experience in laser and CNC field and we are honered as "Hi-Tech Enterprises" in China.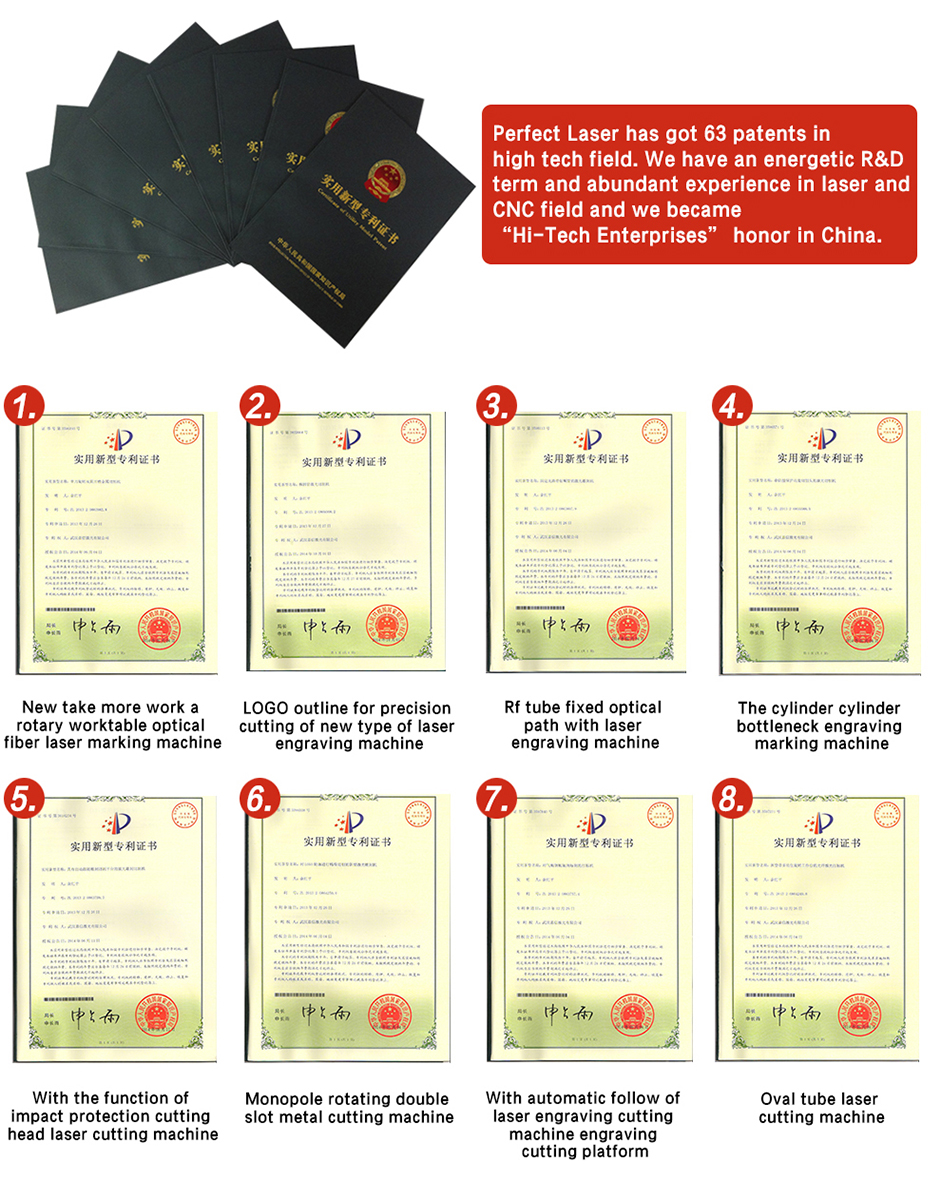 Location Advantages
Perfect Laser's geographical location, could provide a lot of opportunities to reduce production costs, thereby reducing our prices. Perfect Laser headquarters is located in the "China Optical Valley" . Where we have the perfect product matching system can be easily introduced the most advanced technology and production equipment, talents, and using a variety of maritime and air transport, affordable price, we are able to provide high-quality laser equipment.

Exported Countries
Quality product performance and good reputation, Perfect Laser products are not only successful sell in China, but also have been exported to more than 180 countries and regions in the world, including: Germany, Japan, Italy, Russia, Japan, South Korea, Turkey, Brazil , India, the United Arab Emirates, Saudi Arabia and other countries, the products are subject to a great welcome and praise. We always appreciated customer's trust and support of Perfect Laser.

Our goal is simple: to sell the best machines at the best prices, and provides industry-leading customer service. We personally get to know each of our customers, and we know how to discover the most valuable part of our business is Perfect Laser, to help others achieve their goals.

For more detailed information on our industrial laser equipment, please do not hesitate to contact us!
We welcome your inquiries, and look forward to work with you.